About Us
Italian lovers will surely be satisfied with the appetizing dishes of Maranello Café Restaurant. We serve authentic Italian cuisine for food lovers as well as those who are looking for an alternative to their normal home cooked meals. We serve bread and appetizers, burgers, ribs and wings, risotto, pastas and pizzas. Our bestsellers include Seafood Risotto, St. Louis Ribs, Garlic Bread, Seasoned Wedges, The One Burger, Penne Con Pollo and more. Our Margherita, Meat Lovers and Maranello Special pizzas are also worth trying. We are located at 4 John St., Salisbury SA. We provide deliveries as well as pickups for your convenience. We accept online orders daily.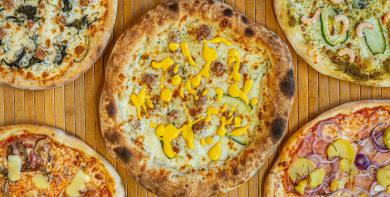 Reviews
Darren
"Chicken Parmy as always good with garlic sauce! Chips are crisp too!"
31/07/2022
Jodi
"Missing Gravy which kind of wrecked the entire meal as it just ended up dry plain schnitzel so was really unhappy"
29/07/2022
Megan
"Delicious as always, and the food was nice and hot when we got it"
13/07/2022
justin-farr
"Very happy thank you"
13/06/2022
Menu
Contact Us
Find Us
2 John st, Salisbury, 5108
Opening Hours
Monday
12:00 PM - 10:00 PM
Tuesday
12:00 PM - 10:00 PM
Wednesday
12:00 PM - 10:00 PM
Thursday
12:00 PM - 12:00 AM
Friday
12:00 PM - 12:00 AM
Saturday
12:00 PM - 12:00 AM
Sunday
12:00 PM - 12:00 AM
Please note, delivery times may vary.
We deliver to
5085 Clearview, 5085 Enfield, 5088 Holden Hill, 5091 Banksia Park, 5092 Modbury, 5093 Valley View, 5094 Dry Creek, 5094 Gepps Cross, 5095 Mawson Lakes, 5096 Gulfview Heights, 5096 Para Hills, 5096 Para Hills West, 5097 Redwood Park, 5097 Ridgehaven, 5097 St Agnes, 5098 Ingle Farm, 5098 Walkley Heights, 5106 Parafield, 5106 Salisbury South, 5107 Green Fields, 5107 Parafield Gardens, 5108 Paralowie, 5108 Salisbury, 5108 Salisbury Downs, 5108 Salisbury North, 5109 Brahma Lodge, 5109 Salisbury East, 5109 Salisbury Heights, 5109 Salisbury Park, 5109 Salisbury Plain, 5110 Bolivar, 5110 Burton, 5110 Waterloo Corner, 5111 Edinburgh, 5112 Elizabeth, 5112 Elizabeth East, 5112 Elizabeth Grove, 5112 Elizabeth South, 5112 Elizabeth Vale, 5112 Hillbank, 5113 Edinburgh North, 5113 Elizabeth Downs, 5113 Elizabeth North, 5113 Elizabeth Park, 5114 Andrews Farm, 5114 Gould Creek, 5114 Smithfield, 5114 Smithfield Plains, 5115 Munno Para, 5115 Munno Para Downs, 5115 Munno Para West, 5121 Penfield, 5125 Golden Grove, 5125 Greenwith, 5126 Fairview Park, 5126 Surrey Downs, 5126 Yatala Vale, 5127 Wynn Vale